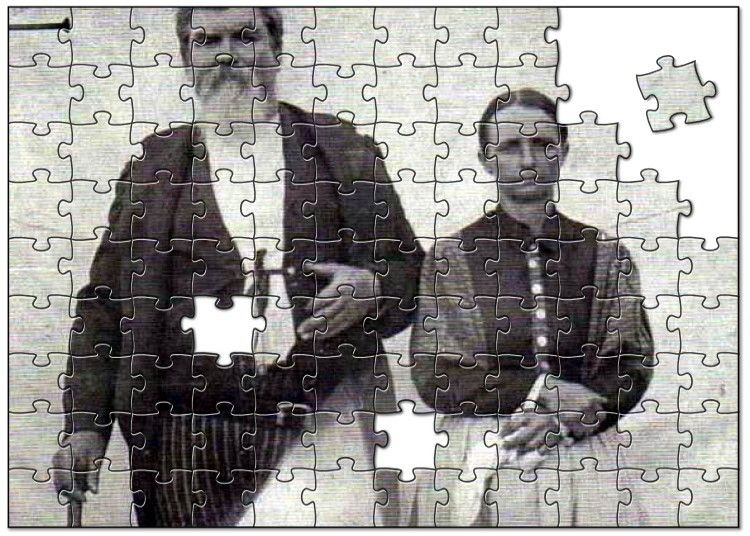 I really
enjoy
appreciate
use the bookmark feature in my family tree database software.
It allows me to pointedly obsess about family members who are the individual bricks in the all-too-familiar ancestral brick wall.
There they are, all splayed out in the left-hand column of my display. Of course, I can go to a different view so I don't see them.
But what's the fun in that? Part of the tortuous thrill of family history research is banging your head against those brick walls.
You know what I mean? Until it hurts so good.
Over, and over, and over.
---
So since he's there, and since I want so badly to be able to
prove
that Robert James Dunn was the younger brother of my great great grandmother Mary C. Dunn,
circumstantially speaking,
I already know he is.
---
Today, I found out where in Georgia he was born.
Just searching census records for the whole big, honking state of Georgia for
Dunns
is pointless.
I was actually looking at one of his daughters by Bob's second wife, Betty Dorella Wofford. (She was the 15 and a half year old daughter of Bob's neighbor, and was pregnant with their first child. But that's
another story.
Scroll about halfway down for the newspaper clipping.)
Florence Ella Dunn's birth certificate says her father was born in Cave Spring, GA. That's in Floyd County.
So you know what I did next. Spent the next hour looking for
Dunn
in Floyd Co., GA in the 1850 and 1860 censuses, hoping I'd find Bob's parents.
Over the results returned, none of them fit - or else Bob, OR Mary and Martha - had been kicked to the curb as little kids.
There was even one couple living in Cave Spring, GA in the 1860 census. But they were 22 and 18 years old, no kids in the home, and too young to have been the parents of Martha, Mary and Robert Dunn.
I keep his photo close and talk to it from time to time. Because sometimes, they give me signs.
The journey is good.
---
**With apologies to Pink Floyd. But the lyrics to the first part are just too appropos...
And before you ask, you too can create a jigsaw puzzle from one of your family photos by clicking
here.