I've been on a campaign to find James Ernest Balding's resting place, once I found out that his youngest sister was buried here in Little Rock.
I knew from California Death Index information that he died on 2 Apr 1944 in Los Angeles County, CA. But I didn't realize I had access to his death certificate on
Family Search
until this morning.
I had to scroll through hundreds of 1944 California death certificates to find it. But when I saw his name at the top of the certificate, I rejoiced. Now I'd know where he was buried.
Only he wasn't. His body was donated as a "specimen" to the University of Southern California.
---
James Balding died alone in an institution called Ranchos Los Amigos at Hondo, CA (now Downey, CA), where he spent the last 8 years, 5 months, and 7 days of his life. The certificate notes that his wife's name was Ella - he and Dora Enderlin had divorced prior to the 1940 census, where she listed her marital status as divorced. In the 1930 census, they were married and living in Los Angeles County.
I had not been able to find James in the 1940 census. It's possible I could now, knowing more geographic detail about where he was during that census.
---
From
this website,
I learned about the history of Rancho Los Amigos, including the period of time in which James was a patient there. Here's an excerpt - you should click the link and read the rest.
The southern campus of the Rancho Los Amigos Hospital is often referred to as the "Hollydale Mental Hospital" or the "Downey Insane Asylum" in contemporary times, however these misnomers paint an incorrect picture of the hospital's past use, which was much broader than just caring for the mentally ill. It was built in 1888 as a catch-all institution for the Los Angeles County Medical Center; a place to care for the handicapped, homeless, insane and elderly. The hospital was located in the former town of Hondo, which was absorbed by Downey in the 1950s. Funded by county bond money, it was simply called the County Poor Farm. Here, able-bodied residents could work on a large farm which sustained most of the hospital's dietary needs, in lieu of paying for room and board and medical care. These tenants were typically the homeless who drank too often, and just needed a few sober weeks of manual labor on the farm. Others worked on crafts such as wool clothes and rugs, which would be sold to the public. The 600 acres of property also encompassed an aviary, zoo, and rail line used for freight and passengers. Unclaimed bodies of residents who died at the poor farm were buried at a potter's field nearby, which has been relocated (but no one seems to know where, exactly) after torrential flooding washed away some of the caskets in 1914.

In 1918, the Spanish influenza epidemic hit the area, and the facility began treating all victims rather than just the indigent, and the word "Poor" was simply stricken from the name of the facility. The hospital expanded greatly in the 1920s to alleviate overcrowding conditions and rebuild flood-damaged structures, leading to the construction of the Spanish Colonial Revival buildings seen today. In 1932, the name of the institution was changed once again to Rancho Los Amigos, which translates to "Ranch of the Friends." The wide range of activities offered at the hospital were making it a legendary place to receive physical and occupational therapy; swimming, woodworking and weaving proved to help restore broken limbs and spirits. One example was that of a man with a badly crippled left arm and hand; the therapist placed a sanding block in it and directed the patient to sand furniture, which exercised the muscles and the patient also earned his own stipend to spend at the hospital store. Another patient who suffered from polio learned to paint by wielding an artist's brush between her teeth after 10 years of recovery.

After the Long Beach earthquake disaster in 1933, a large group of Rancho patients flooded the county supervisor Roger Jessup's office. They told tragic tales in hopes that he would push for funding improvements at Rancho to help the many victims. Some of these real-life stories were so traumatic that Jessup's secretary, Grace Wagner, became "hysterical" after hearing them, and actually leaped out of the office window and plummeted to her death.
But that's information from just the top of the certificate. It was the rest that hurt my heart.
---
James Ernest Balding died of complications of central nervous system syphilis. The final "stage starts after three years of exposure and infection to syphilis. Typically, the person is no longer contagious with the disease, but the gram-negative bacteria in the body can reactivate, reproduce, multiply, and spread drastically throughout the body. At this point, the infection spreads to all the systems in the human body, including the nervous system, bones, eyes, and heart. Neurosyphilis at this point can cause several damages to the body, including tabes dorsalis. When the nervous system is infected at this particular stage, the individual is at risk for meningeal syphilis, which in turn slowly shuts down the entire body. The tertiary stages can also cause the growth of many tumors, and lead to cancerous affects in the body. This stage can be diagnosed through specific tests in serology. The nonspecific tests may be negative. At this point, there is little treatment the individual can pursue, and the body shuts down as a whole." Source:
Wikipedia.
Death certificate for James Ernest Balding, 1878-1944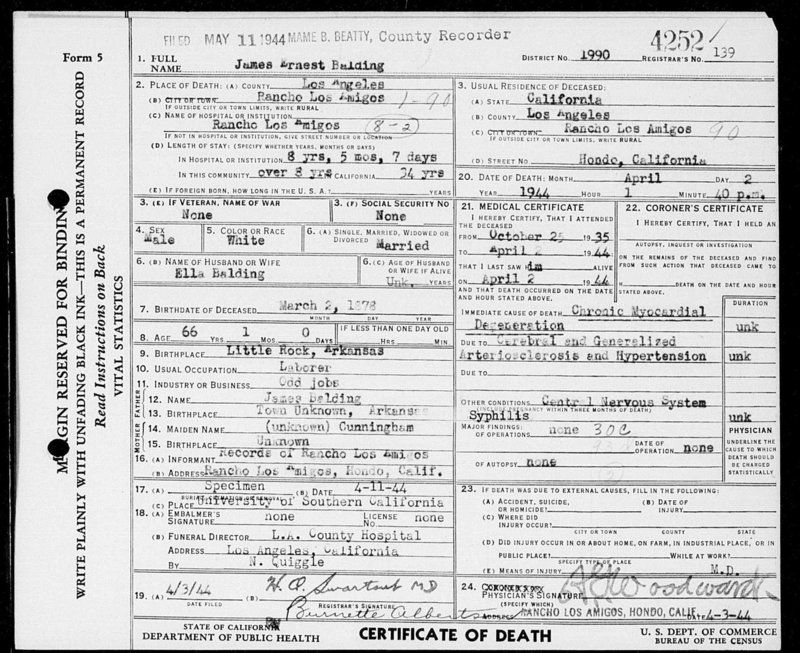 ---
This discovery gives rise to dozens of questions, most of which I expect will never be answered. Stuff like...
Who was Ella? The institution didn't know how old she was, making me believe they were not in touch with her, and possibly didn't know how to contact her to ask her.
Did Dora and James divorce because of his syphilis? They appeared as husband and wife in the 1920 and 1930 censuses, so they were together for a while.
Was Pop Balding notified of his brother's death? Both parents were already dead. Aside from Ella, Pop and Ione (
nee' Balding
Seaman Sisson) were James' only known survivors.
Who gave his biographical history when he was admitted? Hospital staff did not know all of his parents' biographic information - something you'd collect at admission, and certainly in a facility where people came to die.
So many questions, not so many answers.
But enough for me to create a
Find a Grave memorial
for him.
Because everyone has a story. Even if there's no happy ending.