I bought this photo years ago at a flea market for one dollar. I was struck by it because it's one of those photos that families sent "back home" to show their relatives that the crazy notion they had taken to uproot themselves and move turned out all right.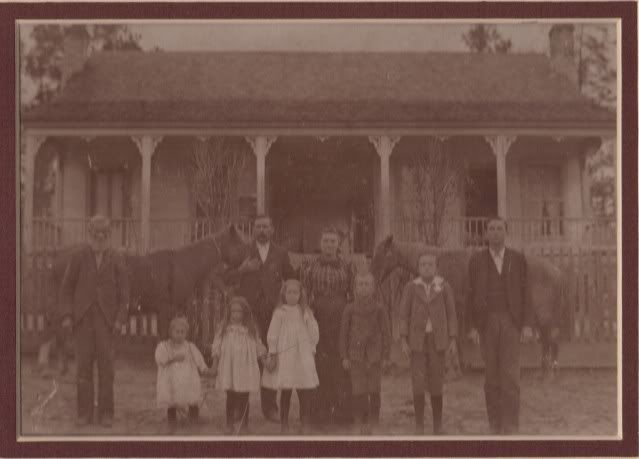 The inscription on the back is in pencil:
From Ella to Fannie when they moved to Smith's Ferry, Tyler Co., Texas. Paul Carter's family and Grandpa Carter. 1899
The 1900 census has Paul and Ella Carter listed with six kids in Justice Precinct 8, Tyler Co., TX.
So I figured that the kids in the photo are (right to left, in order by height):
Frank D, age 16; Paul E, 12; Orlando J, 10; Ruth E, 7; Maude E, 5; and Mary C, 3. Grandpa is way off to the left, and if the family tree I found is correct, his name is William Franklin Carter.
Yep, I found a very well sourced family tree, and emailed the owner to let him know I'd love to return his family photo to him...his last name is Carter, too.
He emailed back, and a couple of months ago, I was able to reunite the photo with the family.
I love it when that happens.
---
Post a comment in response: