Two of my Balding cousins, Parry and Frances, have been in town this weekend for a funeral for their mother,
Miriam Roots Parke Balding.
Parry and Frances are my first cousins, once removed - the son and daughter of Aunt Miriam and my grand uncle, Marvin Parrish Balding, Sr. We are all so close in age that it's often easy to forget they are not my first cousins.
But we had not seen each other since we were all children. This Balding family removed (as our ancestors would say) to Annandale, VA in our childhood. I've been Facebook friends with Parry for a while now, and as a family we recently rounded up the funds to mark the grave of
another close Balding relative.
But that's not the same.
---
Naturally, we reminisced about family. In addition to visiting family graves at Roselawn Memorial Park, we went later in the day to Oakland & Fraternal Historic Cemetery Park to visit Balding and Chapin graves.
I went home after Aunt Miriam's service, and waited for Parry and Frances to call about going to Oakland. I got to thinking about Aunt Miriam's middle name - Roots - and wondered.
Was she descended from
Logan Holt Roots,
the former Congressman from Arkansas, who is buried at Oakland?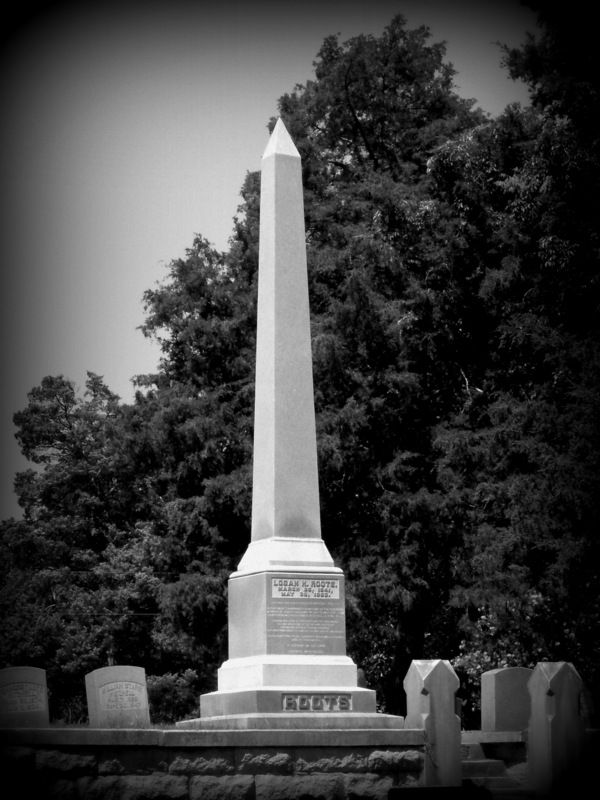 Family plot of Logan Holt Roots and Emily Margaret Blakeslee
I starting digging farther back into her family tree, and discovered that yes, she was. Logan Holt Roots was Aunt Miriam's great grandfather.
But when I returned to my desk after the trip to Oakland, the Roots family story got even better.
---
Logan Holt Roots was born on 26 Mar 1841 to Benajah Guernsey Roots and Martha Sibley Holt, at Locust Hill near Tamaroa in Perry County, IL.
As a young man, Benajah Roots moved from his birthplace in Onondaga Co., NY to Sparta, in Randolph Co., IL. There he built a cabin, and went back to New York to get his wife and two children, Oliver Guernsey and Philander Keep Roots. (The latter was known by most people as P K, probably a mercy for a child at any time.)
By 1854, Benajah built a frame house that served the family as both home and school. The home was known as Locust Farm/Locust Hill Academy, and was located near Tamaroa, Perry Co., IL.
In addition to his roles as an educator, civil engineer and lawyer, Benajah Roots was also a stalwart abolitionist, who assisted slaves to freedom through the
Underground Railroad.
His Locust Hill home with the secret passageway in the basement has been definitively proven to be part of the network of homes used to hide runaway slaves on their way to Canada.
The Southern Illinoian
described the danger of Roots' actions this way:
...Jean Ibendahl points out that Root's stand was not popular with his neighbors.

"This was a hotbed of Southern sympathizers," Ibendahl said. "Once, they threatened to tar and feather him, so he left until tempers had cooled down."...One time, two slave owners were convinced Roots had their slaves hidden in the cistern, even though they had searched the property and found nothing.

"They camped in the orchard, which was south of the house," Ibendahl said. "Roots sawed a hole in the kitchen floor to give the slaves food and water. Finally, the owners gave up and left..."
---
It's the stories of the ancestors - even though these are not mine - that create the fullness of their lives long after they are gone.
Everyone has a story.
I love this one.