dee_burris
The more I shake the family tree, the larger it becomes.
And as I add people to it, I frequently discover facts about them that make me go in search of other facts.
Like why Hurrell Burris Tackett's World War II draft registration card had this big X on the front of it, and a notation
Died Aug 4 1941.
He was just 27 years old.
---
I only ran across Hurrell - or HB, as he was apparently called - when I was researching Ora and Willie D Burris, sisters who married the same man.
They were the daughters of William Matthew Burris and Susan Rebecca Dalrymple.
Ora was the oldest, and married John Thomas Tackett when she was 16. Just a kid.
But so was Tom - he was also 16 when they married. They had five children, although I can only find three. The 1900 census says Ora was the mother of two children, one of whom was living at the time of the census (that was Thomas Orval Tackett). By 1910, Ora had borne five children, but only three of them were living - Thomas, Reba May and Clyde D.
And Ora must have been ill. Willie was living with Ora, Tom and the three children in Little Rock in the 1910 census. Ora died on 25 May 1910, three weeks after the 1910 census was taken on the family. Prior to her death, she was a dressmaker, working from home. Tom was a grocery manager. Seventeen year old Willie must have been taking care of the kids.
---
I can imagine that Willie was a comfort and provided sorely needed help for for her brother-in-law, caring for her nieces and nephew during her sister's illness and after her death.
Whether there was a blossoming romance or not, I do not know. Perhaps the logic of the arrangement was what prompted the marriage.
I think their families must have approved. Although Tom Tackett and Willie Burris were living in Little Rock, they went back home to Pope County to marry on 19 May 1913.
They had one child together, a son.
Hurrell Burris Tackett was born on 26 Jun 1914 in Little Rock.
---
The next record I ran into on HB Tackett was his own marriage record.
Pope County family ties must have been strong. HB married Sadie Maxine Claybrook on 6 Feb 1937 in Pope County.
A 1939 entry in the Little Rock, Arkansas, City Directory showed the couple living at 2103 Center Street in Little Rock.
And then came that curious draft card.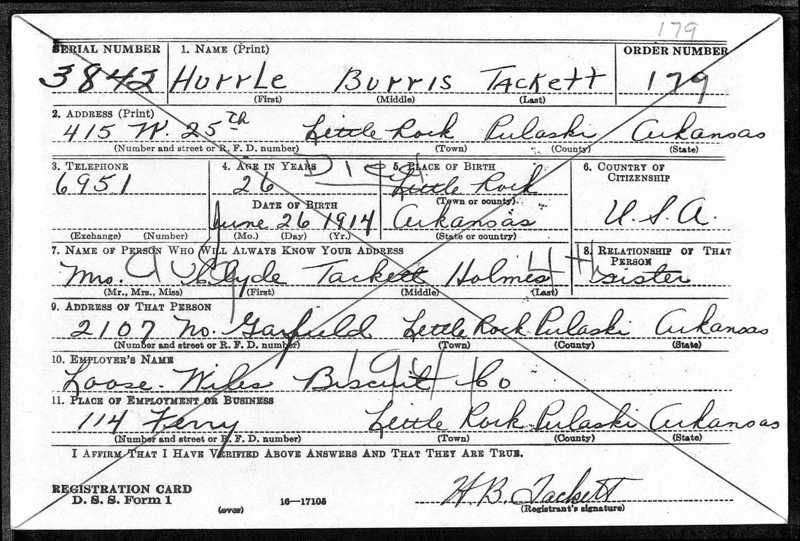 HB Tackett signed the card on 16 Oct 1940.
And since the draft registration was apparently cancelled in some fashion, I knew he did not die in World War II.
So I ordered his death certificate from the Arkansas Department of Health.
And waited.
---
HB's death certificate said he died of "fracture of the skull with brain injury" due to an auto accident on "highway #10" in Little Rock.
I knew there must have been news coverage of the accident. There was.
Four Injured in Automobile Collision
Four persons were injured, one seriously, in an automobile accident several miles west of Little Rock on the Joseph T Robinson highway shortly before 1 this (Sunday) morning.

H.B. Tackett, who lives near Roosevelt road and Broadway, suffered an acute brain injury. Charliene Reinoehl, 511 East Seventh, received a broken leg. V.O. Tackett and William D. Vance were bruised. The vitims told deputy sheriffs their automobile was in a collision. They were taken to University hospital.Arkansas Gazette,
Sunday, 3 Aug 1941
And the next day...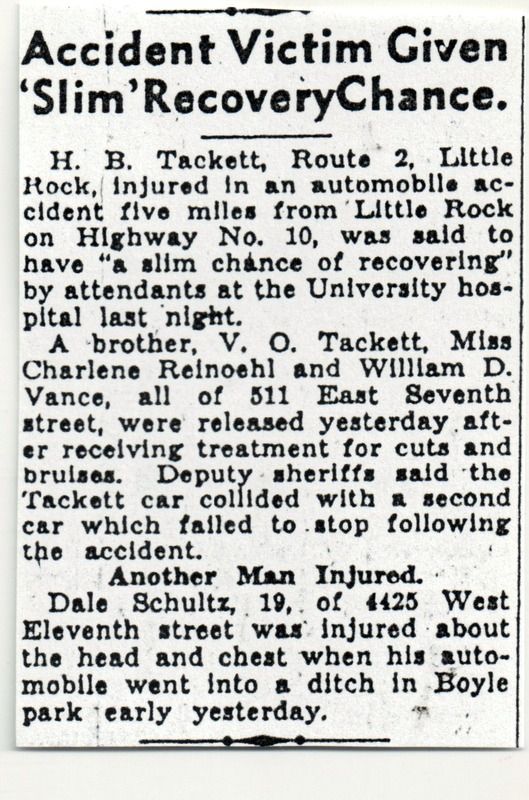 Accident Victim Given Slim Recovery Chance
H.B. Tackett, Route 2, Little Rock, injured in an automobile accident five miles from Little Rock on Highway No. 10, was said to have "a slim chance of recovering" by attendants at the University hospital last night.

A brother, V.O. Tackett, Miss Charlene Reinoehl and William D. Vance, all of 511 East Seventh street, were released yesterday after receiving treatment for cuts and bruises. Deputy sheriffs said the Tackett car collided with a second car which failed to stop following the accident.Arkansas Gazette,
Monday, 4 Aug 1941
HB Tackett died of his injuries at 7:40 p.m. on 4 Aug 1941 at University Hospital.
---
HB's father provided the information for his death certificate. I found that HB was buried in Roselawn Memorial Park, in Little Rock, on 6 Aug 1941.
I called Roselawn because I had not been able to locate burial information for Tom or Willie Tackett. They are also buried at Roselawn.
When Tom Tackett gave the information for his son's death certificate, he said HB was single. I found that curious, and have been unable to find either death or divorce information for Sadie Maxine Claybrook Tackett.
And the second news article had an error in it. VO Tackett was not HB's brother. He was his first cousin - the son of Tom Tackett's older brother, Jesse Epp Tackett.
But I imagine the cousins were close. When VO's mother died in 1925 when VO was 11 years old, VO came to live with Tom and Willie Tackett by 1930, in Little Rock. So he and HB did spend a portion of their teenage years together.
In my mind's eye, I can see a distraught VO Tackett telling sheriff's deputies...
He's my brother.
---
You can leave a virtual flower on HB Tackett's Find a Grave memorial by clicking
here.